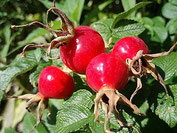 At this time of the year, rosehips are in abundance around England.
Rosehips are the fruit of the rose plant, their colour ranges from red to orange.
Rosehips are great at this time of year to give the immune system a good boost. Rich in vitamin C and flavonoids, rosehips are excellent for cold and flu prevention when made into a syrup. Adding raw local honey increases its antibacterial activities.
Rosehips were a great substitute for oranges during WW2, when children were sent out to collect them from the hedgerows to make rosehip syrup the same way we do today.
Recipe
1 cup of rosehips (without tops and ends)
2 cups of water
½ cup of raw honey.
Method
Place the rosehips and water into a small pan, simmer for 20 minutes.
With a fork smash the rosehips until the seeds come out.
Let the mixture cool, then use cheese cloth to strain, making sure you avoid any seeds or fine hair from inside the rosehip getting into the liquid, as they can irritate the throat. 
In a jar, mix the liquid and raw honey with a spoon and it is ready to use.
Directions
Take one tablespoon when needed.
BE HERB WISE
Each session will focus on 3 herbs related to a specific topic, including optimising energy, managing stress, treating insomnia, preventing hay fever, protecting the liver and the heart, improving digestion, balancing hormones and treating aches and pains. 
Herbs will be tasted in various forms and their healing and energetic properties explored, in order to gain a deeper connection with the herbs and obtain a greater understanding of their actions and uses.