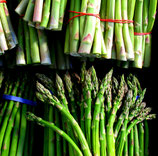 Recharge your batteries!
 
You can utilise the summer sunlight to boost your energy - as long as you eat your greens!

There seems to be no end to the list of benefits of dark green, leafy veg - and just in case you need another reason, here it is:  a recent study showed that animal cells are capable of producing energy in the presence of chlorophyll, similar to the processes generated by plants. 
So make sure to have a bowl of dark green, leafy greens with every meal and put a good handful in your smoothie - this will give you plenty of magnesium, calcium, fiber and get your cellular energy up to utilise those precious rays!


More info on the research here ..

For tips on sensible and safe sun exposure see our blog

Recipes for Green energy

Here are a few ideas on how to make your greens more exciting.

Crunchy asparagus
Fresh green asparagus




Sea Salt




Pepper




Olive oil



Top Asparagus tip! Hold the cut end and apply pressure to snap the stalk, use the edible 'spear' end and reject the 'woody' end. Less waste & no fuss!
Lightly heat some oil, saute the asparagus for a few minutes, until slightly browned, add salt and pepper and serve hot. They come out with a lovely crunchy, fresh texture when prepared this way.
Sauteed spinach
Spinach




Garlic




Diced almonds




Olive oil  (ideally infused with some truffles to give it that extra full flavor - but don't use this for frying the garlic)




Sea Salt



Heat a little bit of olive oil in a pan, fry some finely chopped garlic for a few minutes, reduce the heat, add a handful of spinach leaves. Saute until the spinach starts wilting slightly, this often only takes a few minutes, especially if you have young spinach leaves. Add a bit of salt and then place in a bowl, sprinkle some truffle oil and some diced almonds - serve immediately.
We hope you enjoyed our ten top tips for the summer
Later this week we will be writing about hormone and endocrine balance through herbs and diet, so be sure to check in for that!