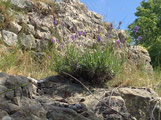 TOP TIP #4 Lavender
While most of us love staying outdoors during the summer months, we could do without the frequent annoyance of insect bites.
Fortunately, Lavender essential oil is considered a great bug repellent that can be applied on exposed skin when outside.
You generally find three types of lavender, which all have slightly different properties - True Lavender, Spike  Lavender and the hybrid Lavandin.   
True Lavender  grows in harsh arid conditions                
As well as a repellant, lavender oil can also be used as relief for insect bites. It has anti-inflammatory properties that can reduce irritations such as itching, swelling and redness. Spike Lavender is particularly effective as it has greater analgesic and antihistaminic properties, due to its cineole and camphor compounds, and works almost instantly.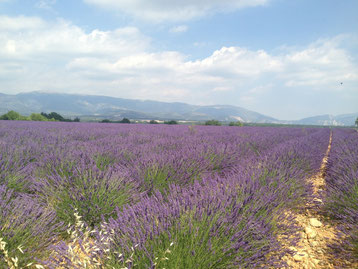 Apart from keeping mosquitoes at bay, True Lavender and Lavandin also have the added benefit of inducing a good night's sleep when placed on your pillow. However, they act a bit slower in case of a bite, so it is good to stock up on the different types.

RECIPES
Itch Relief: After insect bites apply a drop of Spike Lavender directly and repeat as needed. 
Lavadin fields in Provance
Repellent: add a few drops of lavender to your body lotion and apply before going out. Use True Lavender or Lavandin if you also want a sedative action. Spike Lavender is not sedating. 
You can also get Lavender hydrosol and use this directly on the skin as a spray. In this form it is also very refreshing and can be applied several times during the day. 
Check here tomorrow to read about how rosewater can keep you cool and beautiful!