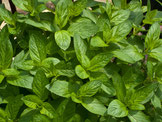 TOP TIP #2 Mint leaf
Mint leaf is well known for its cooling effect in the body and is perfect for the summer months.
Used internally to reduce bloating, relax smooth muscle tissue in the digestive tract and to stimulate bile production, it can be enjoyed as a tea or added to juices, smoothies, salads and wraps.  For more info on research & trials read here. 
RECIPE
Try out this cooling summer juice to ensure you stay hydrated:
Add all the ingredients into the blender with some ice if you fancy, blend, and serve.