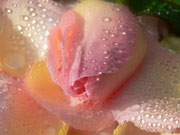 TOP TIP #5 Rose Water
Another handy herbal item to carry with you during hot summer days is rose water.
When sourcing your rose water make sure to get a good product which does not have any additives or preservatives. True aromatic waters are produced through a distillation process, similar to the one that produces essential oils. They are very rich in their action as they contain most of the oil components, as well as some of the lighter water soluble compounds that you would usually find in a water extraction. 
Aromatic waters can usually be used externally and internally. Rose water taken internally is cooling and soothing for nerves and the digestion. Try 10mls of aromatic waters in your daily water bottle and drink throughout the day. 

Externally, spray it on your face and body to experience an instant cooling effect, while at the same time tonifying your skin.
Rose water is filled with compounds that nourish the skin and are thought to prevent signs of ageing. It is believed that Cleopatra used rose water in her beauty routine – so probably worth a try!
Check here tomorrow to read our first summer TOP TIP from a Chinese Medical Perspective.