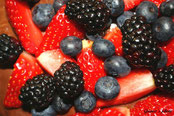 Here at Be Well London we are welcoming in the summer with another round of our seasonal top tips.
The summer season is the time when the body can stock up on vital vitamin D and increase neurotransmitter levels. It is also the time for holidays and the chance to unwind. However, the season can also bring its challenges, such as the potential negative impacts of the sun including oxidative stress, dehydration, sunburn, overheating, insect bites and so on. 
Check here every day for the next 10 days for tips from our Nutritional Therapists, Herbalists, and Chinese Medical Practitioners for advice on how to be healthy during the summer months...TOP TIP #1 Eat seasonal food
We always associate the British summertime with berries; e.g. Wimbledon and strawberries & cream.
Eating seasonal food has many advantages, one being that they can be sourced more locally.  Not only does this mean that they are fresher but it also brings environmental benefits as well. Summer berries currently in season include: strawberries, blueberries, raspberries and blackberries. 
Berries are low in natural sugars, and packed with antioxidants, Vitamin C, and fibre. Include them in smoothies, salads and deserts.
Try to buy organic, or from farms declaring low pesticide use, whenever possible, as the exposure on commercially grown fruits can be very high. If you can't source organically, then be sure to wash them well: scrub the produce where possible and since most pesticides are fat soluble and won't come off with water alone, use some form of vegetable wash. You can even add a drop of washing up liquid to your water when you wash them before rinsing thoroughly. 
See here to read more about which months these berries are in season and their nutritional values.
Check here tomorrow for the first of our herbal tips, including a refreshing summer recipe.