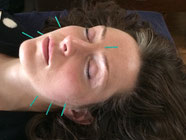 Facial acupuncture was reportedly used as early as the Song Dynasty (960AD – 1279AD) to treat the Empress and Emperor's concubines.
Over the last centuries, facial acupuncture has been commonly used for facial conditions such as Bells Palsy, Tendo-Mandibular Joint syndrome, acne and rosacea.
More recently, facial acupuncture has been gaining popularity again as it has been used by celebrities such as Angelina Jolie, Sean Connery, Gwyneth Paltrow, Kim Kardashian and Madonna for cosmetic purposes. In the press facial acupuncture has been hailed by some as the 'holistic alternative to botox'.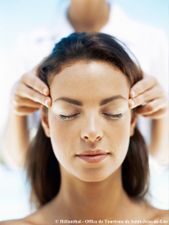 So how does it work?

Your acupuncturist will take a thorough consultation, including questions  regarding your lifestyle and diet. Very fine, sterile needles are then inserted into specific areas on your face and body. Micro-trauma is created by insertion of the needles, causing white blood cells to flood to the area to repair the skin. The needles boost the circulation of qi (also known as life force energy) and blood to the face and stimulate cell regeneration and collagen production. Many people find that during the 20 minutes the needles are in place, they feel very relaxed or even fall asleep.  
After the needles are taken out, a relaxing facial massage is performed on over 90 muscles in your face, scalp and neck to help lift and tone.
To achieve the best results, a course of 10-12 treatments of facial acupuncture and massage (once or twice a week for six to 10 weeks) is recommended.
Studies published in the International Journal of Clinical Acupuncture in 1996 showed that of 300 people who received Facial Acupuncture, 90% demonstrated marked results after only their first treatment.
See more information at http://www.cosmeticacupunctureuk.com/
Read about the facial acupuncture we offer at Be Well here. Want to try it out?  Why not book a session in June and get 25% off your initial session? Quote Code Skin2015 

If you are interested in other holistic ways you can support your skin, why not join us for another fantastic cooking workshop on Wednesday 17th June?
SKIN FOOD - Eating Well for Healthy and Radiant Skin - just in time to get ready for the summer
Click here for more information or to book a place.
Or contact us here for more information about Be Well London, or to book an appointment with one of our therapists.