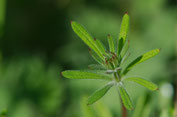 Beauty comes from the inside. The best skin herbs tend to 'cleanse' the body of toxins on the inside by aiding detoxification, making you glow on the outside!
Cleavers (Gallium aparine) 
Folklore states that drinking a cold infusion of this for nine weeks will make you so beautiful, you will become irresistible! 
This herb works on the lymph system. Lymph is the substance that takes cell waste products away to be excreted, and distributes white blood cells, proteins and fats.

Recipe: Take a handful of Cleavers, place in a jug of cold water overnight, strain and  drink throughout the next day. 
Chamomile (Anthemis nobilis or Chamomila recutita)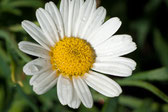 This herb is the ultimate help for calming digestion and generally reducing irritation and inflammation throughout the body, which in turn can soothe skin problems.  And don't forget its value as an external beauty product.
It is an excellent anti-inflammatory and can simply be used as an infusion to splash your face with. This will gradually soothe redness and itchiness. The ground-up flowers can also be added to home made face-masks for some extra soothing and cooling pampering.
Recipe: 
Infusion: 1 teaspoon of chamomile flowers or 2 teabags in a cup of water, add a cup of boiling water, cover and infuse for 5 minutes.
Face mask: A teaspoon of chamomile flowers mixed with a tablespoon of organic porridge oats, a little honey and enough water to make a paste. Apply and leave on for 10-15 minutes.
Frankincense (Boswellia species)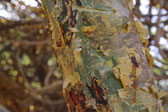 Frankincense is a common ingredient in many expensive anti-ageing creams. This luxury resin has been valued for centuries, appearing as one of the precious gifts given to the infant Jesus. It was traditionally burned as an incense, and was charred and ground into a powder to produce the heavy kohl eyeliner used by Egyptian women. 
Frankincence is anti-inflammatory and promotes cell regeneration. It has antibacterial and astringent properties to aid healing, and help treat dry, irritated skin. 
Tip: Buy a good quality essential oil from a reputable seller such as Baldwins and add a drop to your daily face cream. Breathe in its relaxing scent, and it will set you up in a good mood for the day. 
If you are interested in other holistic ways you can support your skin why not join us for another fantastic cooking workshop on Wednesday 17th June.
Skin Food - Eating Well for Healthy and Radiant Skin
Just in time to get ready for the summer
Click here for more information or to book a place.
Or contact us here for more information about Be Well London, or to book an appointment with one of our therapists.