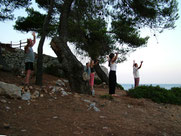 In Chinese Medicine Springtime is associated with the Wood element which relates to the Liver organ.  The Liver is thought to smooth the flow of qi around the channels of the body, removing physical, emotional or energetic blockages.
It is important therefore to support the Liver energy during this time to assist in 'detoxing' the channels.  The following Qi Gong exercise can be used to activate and energise the Liver qi.
This exercise can be done sitting with a straight spine, or standing with feet a comfortable distance apart and knees soft.  Move slowly and deliberately without stretching your muscles to their full extent.